PPIH Group's philosophy concept promotion of Purpose and sustainablity
We are an international group of companies with the goal of contributing to society by bringing joy and excitement to customers through our distribution business.
We will spare no effort to contribute to the cultural and economic development of the region and the nation by maximizing customer satisfaction by always providing what customers want in the way they want it, thereby stimulating consumption and expanding domestic demand.
(Quote from The Source.)
The PPIH Group, as a global company, is committed to the unchanging corporate principle of "Customer First" as stated in the "The Source" section of our corporate philosophy, and all employees and executives are committed to adhering to this philosophy.
Through our main business of general retailing, which is based on "We commit ourselves to doing business in a manner that is unselfish, 100% honest, and grounded strong sense of morality and purpose" as stated in our management philosophy, we will strive to achieve sustainable growth and enhance our corporate value over the medium and long term by engaging in dialogue with our stakeholders.
PPIH Sustainability
Based on our corporate principle "The Customer Matters Most", PPIH promotes ESG and strives for sustainable growth to continue to be a chosen store that pleases the customers.
Basic policies and materiality for ESG promotion are disclosed in Passion 2030 (Medium-to-long term new management plan).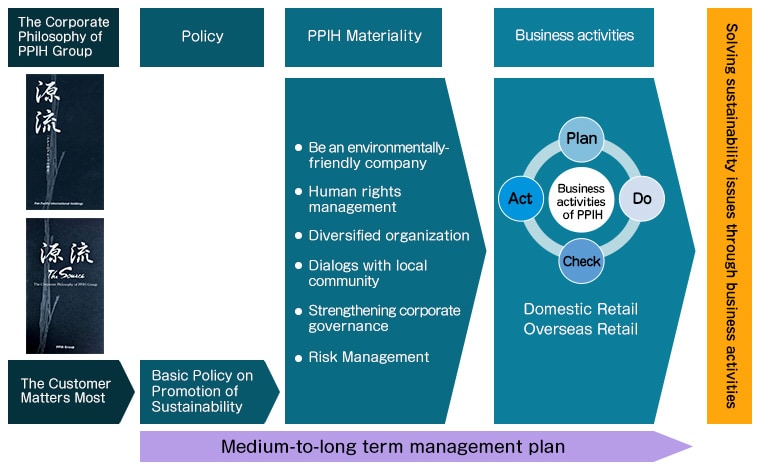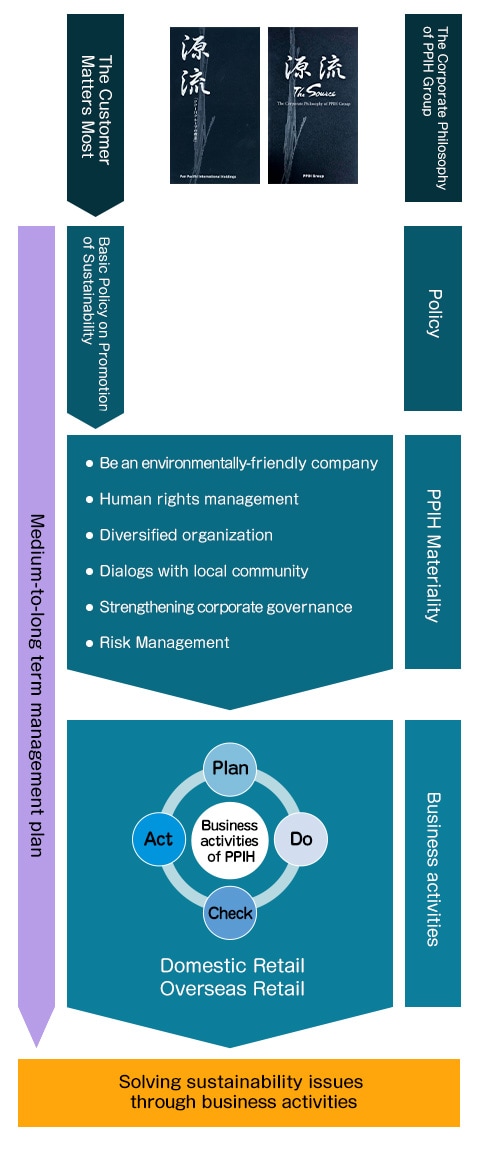 ESG Promotion Framework (as of July 2021)
In the PPIH Group, each committee plans and formulates measures for ESG promotion, and under the decision of the director in charge, the measures are reflected in business activities in cooperation with each department.
The Sustainability Committee, which was newly established on July 1, 2021, will work on environmental measures and supply chain management.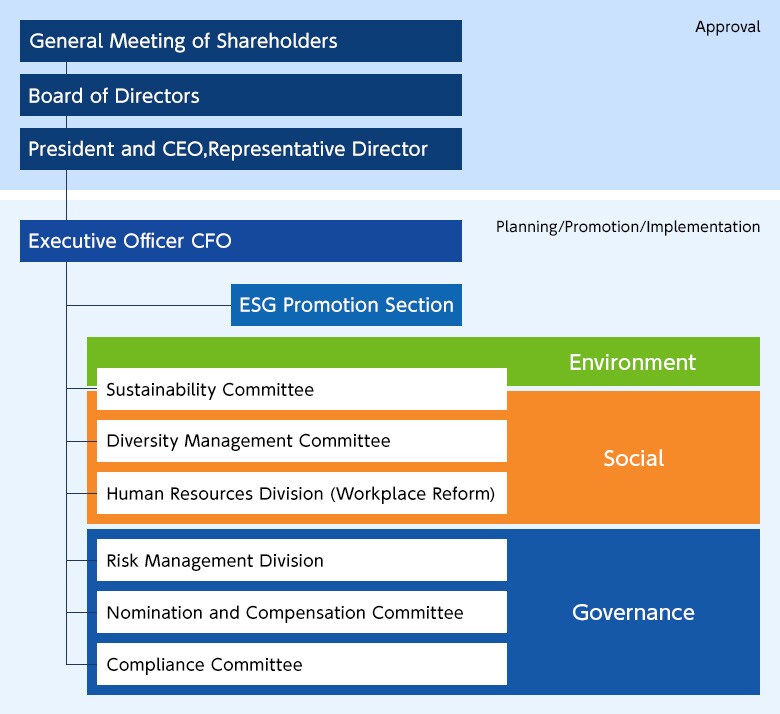 The Stakeholders of PPIH Group
The PPIH Group places importance on dialogue with various stakeholders based on its corporate philosophy of "The Customer Matters Most" in its global business activities. We believe it is important to provide information on the activities of the PPIH Group through the following methods of dialogue, recognize expectations and concerns received from stakeholders, and promptly improve and respond to them. The PPIH Group will continue to promote sustainability while reflecting the opinions of its stakeholders in its business activities, aiming to improve corporate activities.
Stakeholders
Main Methods of Dialogue
Customers
Store promotion, over-the-counter events
Provision of information through official websites, official SNS, and dedicated apps
Customer questionnaires and representative inquiriesa
Business Partners
General assembly of business partners
Dialogue with the WEB Business Negotiation System
Partner-only hotline
Stakeholders/Investors
Shareholders' meeting, IR briefings, IR meetings
Information site for investors
PPIH reports, integrated reports, ESG data books
Local Communities
Local residents' briefings and communication with local governments
Social contribution activities and volunteer activities
Employees
Dissemination of information through in-house portal sites and internal reports
Internal reporting window, employment satisfaction questionnaire
Salary interview, communication interview
"The Source" training and seminars