Corporate Philosophy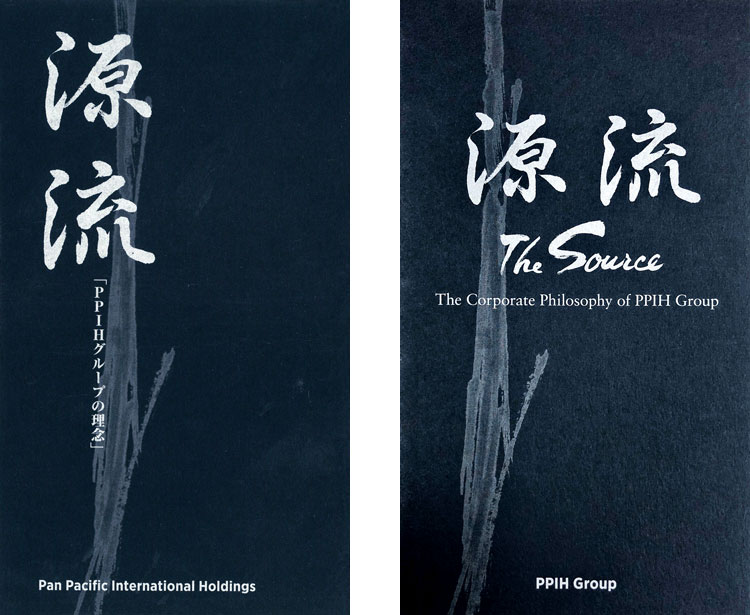 Takao Yasuda, founder, Founding Chairman and Supreme Advisor to our company, published the first edition of "The Source" (Genryu), a corporate philosophy collection on April 1, 2011. Since he had founded Don Quijote and things began to gain traction, Yasuda had felt a strong need to clarify corporate philosophy and to document it in writing. The company rapidly became a massive enterprise in 2010, and concern over being infected by Big Company Disease and risks of self-destruction had been mounting. It was amid an air of crisis that there was not a moment to lose that he began working on "The Source" which he published in 2011. As a backdrop, Yasuda had been inspired by "Built to Last", a masterpiece publication that talks about philosophy that does not rely on a charismatic manager.
Yasuda amended his corporate principle from "Put the Customer First." to "The Customer Matters Most." He compiled "The Source" as something that would be eternally immutable, universal, absolute, and deeply understood, documenting corporate principles and management philosophy with which all employees and officers at the PPIH Group would comply.
Since then, the second revised edition of "The Source" was published in September 2013, followed by the third edition on July 1, 2015, and in response to the change in the company name to Pan Pacific International Holdings Corporation, the current new revised edition (fourth edition) was published on February 1, 2019.
"The Source," an English edition of "Genryu," was later translated by Dr. Michael Emmerich and published in 2019.
For our company, "The Source" (Genryu), is the very image of a true CEO, and our employees refer to it as a code of conduct for all of their actions as they hone their skills through friendly rivalry.
To herewith convey that these thoughts and ideas that our founder had had will eternally be the unique pride and reason for being for our Group, we would like to offer an introduction to the corporate principles and management philosophy set out in The Source
Our Corporate Principle
"The Customer Matters Most."
・This is the unchanging principle of the PPIH group.
・This principle motivates and defines each and every action this company takes.
・The realization of this principle requires strict adherence to our management philosophy.
The Six Precepts of Our Management Philosophy
Precept 1 
We commit ourselves to doing business in a manner that is unselfish, 100% honest, and grounded in a strong sense of morality and purpose.
Precept 2 
In every age, we create shop floors that evoke the anticipation and excitement of finding astonishingly cheap goods.
Precept 3 
Boldly granting authority to those at the center of things, we are always ready to move people around, to make sure they are in the best possible position.
Precept 4 
We are committed to creative destruction and the ability to adapt; we reject pre-established harmony and the hesitancy to do anything that might rock the boat.
Precept 5 
We are unhesitant in the face of daunting challenges, and unafraid to beat a rapid retreat when a cold, hard look at reality tells us this is the best course.
Precept 6 
Undistracted by easy profits, we hone to perfection the strengths that form our core business.
PPIH Group Companies 
Holding company
Domestic retail division
Overseas retail division
Distribution division
Services division
Real estate division
Advertising and promotion division
Financial services division
Digital division