Approaches and initiatives for respecting human rights
The PPIH Group's collection of corporate philosophys, "The Source", clearly states the corporate principles, management philosophy, employee principles, and code of conduct to be observed by all employees and executives. Based on these teachings of "The Source", we are working to respect the human rights of all stakeholders involved in the Group.
"The Source" states that the company will not discriminate on the basis of race, nationality, ethnicity, gender, age, place of birth, ideology, religion, educational background, physical characteristics, disability, LGBTQ (sexual orientation and gender identity), etc., and will recognize all forms of diversity. In addition to ensuring that all employees are aware of this philosophy, we also conduct training to deepen their understanding of diversity.
Furthermore, We also comply with relevant laws and regulations, and respect international codes of conduct such as the Universal Declaration of Human Rights, International Covenants on Human Rights, ILO Core Labor Standards, and Guiding Principles on Business and Human Rights. We will respect workers' rights, including freedom of association and the right to collective bargaining, and will not engage in any human rights abuses, such as child labor, forced labor, harassment, discrimination or violence, and will strive to identify human rights risks related to our business and avoid them.
PPIH Group Human Rights Policy
1

In order to realize our principle of "The Customer matters most", we will comply with the code of conduct based on our management philosophy, "The Source", conduct business selflessly and honestly, and contribute to the development of a sustainable society through our business activities. This basic policy applies to all employees and executives working for the Group. We also expect our partners (business partners) who realize our common objectives to comply with this policy.

2

We will contribute to the promotion of diversity in society by responding to the needs of customers with diverse values.

3

We will always try to change the subject, think from the other person's point of view, respect the human rights of our employees and partners, and create a workplace environment where they can work with peace of mind.

4

In order to realize a corporate culture based on meritocracy, we will respect the diversity of our employees and conduct sincere and fair evaluations without arbitrariness.

5

In accordance with the UN Guiding Principles on Business and Human Rights, the PPIH Group seeks to prevent and mitigate negative impacts on human rights through management based on The Source. We will also set up consultation services both internally and externally to protect the human rights of our employees, partners, and other relevant stakeholders, and practice due diligence towards human rights.
Promotion System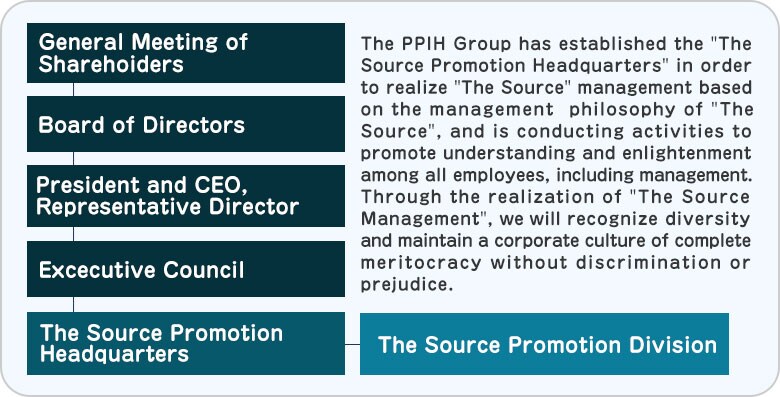 Promote and disseminate respect for human rights through "The Source"
■Implementation of The Source Examinations
In order to deepen the understanding and penetration of The Source, which defines all of the codes of conduct, including human rights, for PPIH Group employees and executives, we conduct self-learning using e-learning and The Source general examinations once a year, and The Source transmission certification examinations twice a year, including training.
A master of The Source is an employee who understands and implements the teachings of The Source, and is responsible for spreading them to other employees, including mate employees*. Employees who pass the examinations are qualified as "Masters", and we strive to practice thorough "The Source Management" with the masters as the core.
The Source Examinations 2020
No. of successful masters: 160
General Examination participation rate: 100%
■Efforts to Raise Awareness
The employee principles and code of conduct set forth in The Source are posted in the offices of the stores where many of our Mate Employees work, as well as in the spaces for business negotiations with our partners, so that they are always visible and raise awareness. We also recite our company principles before work to promote understanding and penetration.
※ mate employees :Part-time staff
The establishment of a consultation service
In the unlikely event that a human rights issue arises in the workplace, we have established internal and external contact points for Group employees and their families to consult and report such issues.
■Consultation services available to employees and their families.
■Employee Reporting Consultation Service
■Dedicated contact for business partners
Internal and external (third party law firms) contact points for reporting are provided, and the privacy of those who consult or report is strictly protected. If necessary, we will seek to confirm the facts and resolve the issue with the consent of the individual consulting. It is also stipulated that there will be no disadvantage to the person who has consulted or reported the matter, or to those who have cooperated in confirming the facts.