Basic policies and Materiality
Basic policies
Aiming to deliver continuous growth and increase the mid-term value of our company, we will be further increasing our dialogue with our stakeholders. Through our business activities in the general merchandise retail sector, we will tackle environmental and social issues, increase operational efficiency and transparency, and thus actively strengthen corporate governance.
Environment
The PPIH Group Environmental Policy
Proactive action to save the earth
As environmental issues become increasingly severe on a global scale, our group aims, through our business activities, to contribute towards the creation of a low-carbon-emissions, recycling, nature-friendly society.
Social
The PPIH Group Social Responsibility Policy
Prosperity for customers' everyday and local economy
Inclusion and diversity
Through dialogue with our stakeholders, we aim to grasp their needs and quickly resolve issues, respecting their fundamental rights and continuing to develop as a business with a high level of ethics.
Governance
The PPIH Group Corporate Governance Policy
Highly committed corporate governance
We stand by the principle that highly ethical business activities are a prerequisite for corporate continuity, and we have built a rapid response system within the company, maintaining our corporate governance framework and the legitimacy of its operations while seeking expert advice from outside the corporate group.
Materiality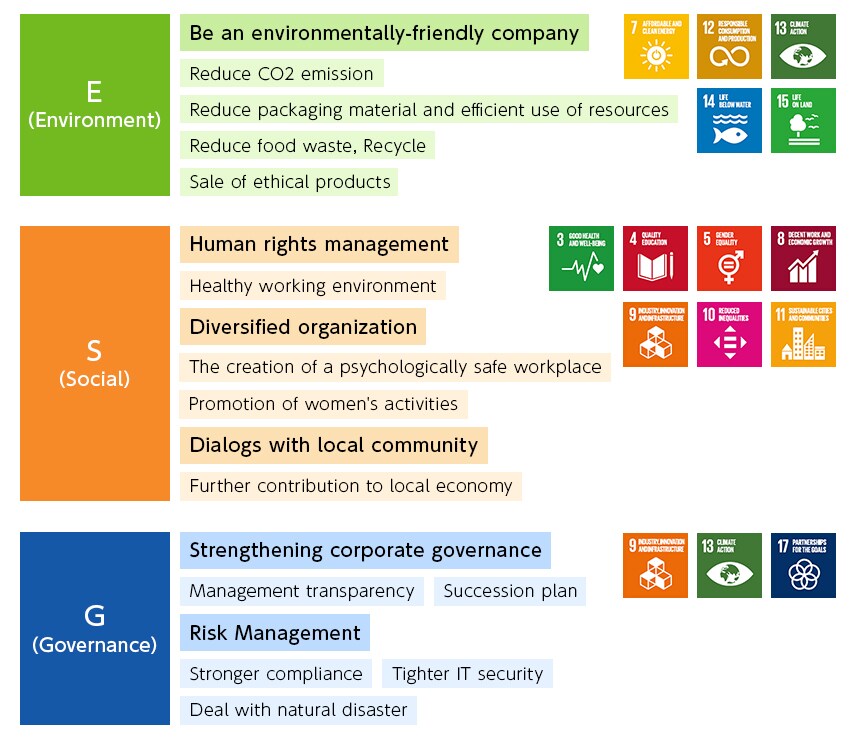 ※Materiality issues will be reviewed as appropriate according to the business and social conditions of the PPIH Group.