Medium-to-long term management plan
Passion 2030(Medium-to-long term new management plan)
February 5, 2020
February 5, 2020
Declaration of new era for value creation
Domestic business

International business

Merchandizing and private brand

CRM and financial business

Organization and human capital development

Marshmallow framework (promotion of digitalization, etc.)
Document
Efforts towards Improving Corporate Value
Unique Business Model and Long-term Outlook
Overarching Principle for Improving Corporate Value
Structure of Corporate Value

(As of June 30, 2019)
*1. Average annual net sales growth rate from the fiscal year ended June 30, 2014 (net sales of ¥612.4 billion) to the fiscal year ended June 30, 2019 (net sales of ¥1,328.9 billion)
*2. ¥66.0 billion (operating income target for the fiscal year ending June 30, 2020) × (1 - 30.62% (statutory tax rate)) ÷ ¥1,650.0 billion (net sales target for the fiscal year ending June 30, 2020) = 2.8%
*3. ¥1,278.6 billion (total assets) - ¥16.7 billion (investment securities) - ¥0.6 billion (foreign currency translation adjustment) - ¥295.3 billion (current liabilities other than interest-bearing liabilities) = ¥966.0 billion (invested capital on June 30, 2019), Invested capital to net sales = Invested capital ÷ ¥1,650.0 billion (net sales target for the fiscal year ending June 30, 2020)
*4. A figure of 0.14%, the average five-year yield of 10-year national bonds on June 30, 2019, is used for the rates of daily fluctuation in the stock prices of the Company and listed companies with similar business models and in the Tokyo Stock Price Index as well as for the risk-free rate over the period from July 2014 to July 2019. A figure of 5.0% is used for the risk premium, which has been calculated based on historical stock price fluctuations. Other figures are estimated based on the Company's interest payment rates, components of capital and liability, and other factors.
Structure of Shareholder Value

(As of June 30, 2019)
※1. EVA is a registered service mark of Stern Stewart & Co. This indicator is calculated by subtracting capital costs (invested capital × WACC from post-tax operating income) from post-tax operating income.
ESG
1.
Basic policies on ESG
2.
ESG Materiality
3.
ESG Road map
Capital policy and shareholder return
1.
Investment
 Utilizing internal reserves for reinvestment to optimize business portfolio. The biggest purpose for shareholder return is to further improve corporate value and management structure by utilizing internal reserves.
2.
Dividend policy
 "Progressive dividend policy" is the basic thinking that there will be incremental dividend associated with sustainable growth. This is based on the improvement of corporate quality and internal reserves for future business roll-outs.
3.
Share buyback
 Our basic policy is to aim medium to long term shareholder return by flexibly buying back shares when PBR gets under 1.0 time. The balance between profit growth opportunity and improvement outcomes for capital efficiency should be considered.
4.
Capital policy
 We have optimal and timely capital policy by overseeing changes in external environment and consumption trend in order to improve corporate value.
5.
Financing
 Equity financing is not our option to take for a while. Financing to lever business growth will be done by debt including bank borrowings, commercial papers and corporate bonds.
We take optimal and flexible financing method from various ways based on our growth stage and external environment.
Trend in dividend and ROE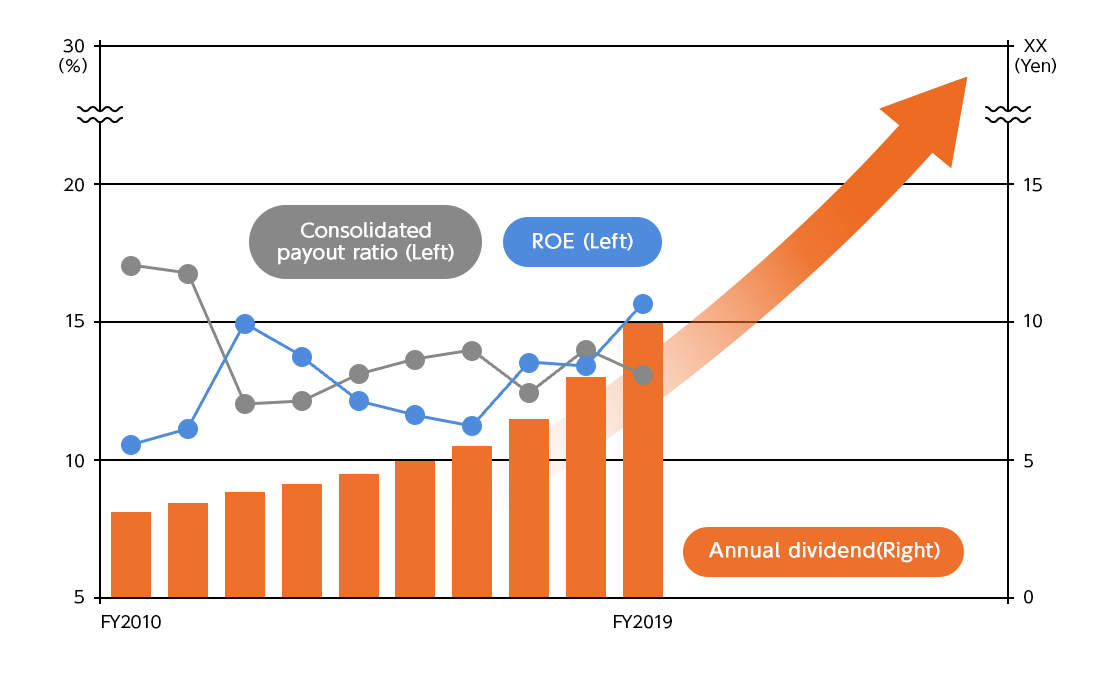 Changes in the world, environment recognition
Demographic dynamics
●Declining population, urbanization
●Changes for household mix (aging, declining birthrate)
●Income disparity
●Emergence of new consumer base (Higher influence of millennial and Gen Z)
Globalization opportunity and rising risk
●Rising geopolitical risk
●Mutual connection of trade, human, capital, information.
Economical interdependence, volatility
Destructive technology innovation(Digital)
●Big data:AI(Artificial intelligence)
●Channel communication:Mobile sound movie, social media
●Supply chain:IoT, robotics, food technology
Changes in consumers' lifestyles and preferences
●Health-conscious
●Local-rooted
●Preference for save time and higher convenience
●Situation-oriented consumption
●Diversifying data catch, simplification of decision-making process
●Diversifying consumer behaviors (used, share, E-commerce)
Changes in consumer industry dynamics
●Consolidation of retail players
●Expansion of E-commerce platformers
●Retail sales by consumer manufactures(D2C)
●Expansion of influence from used and sharing platformers
●Emergence of new delivery model mainly eat-out
Shifting from expansion growth strategy to
low cost and high profitability structure.