Initiatives Targeting Sustainable Growth
We promote ESG measures and endeavor to deliver continuous growth so that we can continue to be a company that our customers can rely on and be satisfied by.
Aiming to deliver continuous growth and increase the mid-term value of our company, we will be further increasing our dialogue with our stakeholders. Through our business activities in the general merchandise retail sector, we will tackle environmental and social issues, increase operational efficiency and transparency, and thus actively strengthen corporate governance.
the PPIH Group ESG Measures Policy
The PPIH Group continues to pursue ESG measures in order to ensure its long-term growth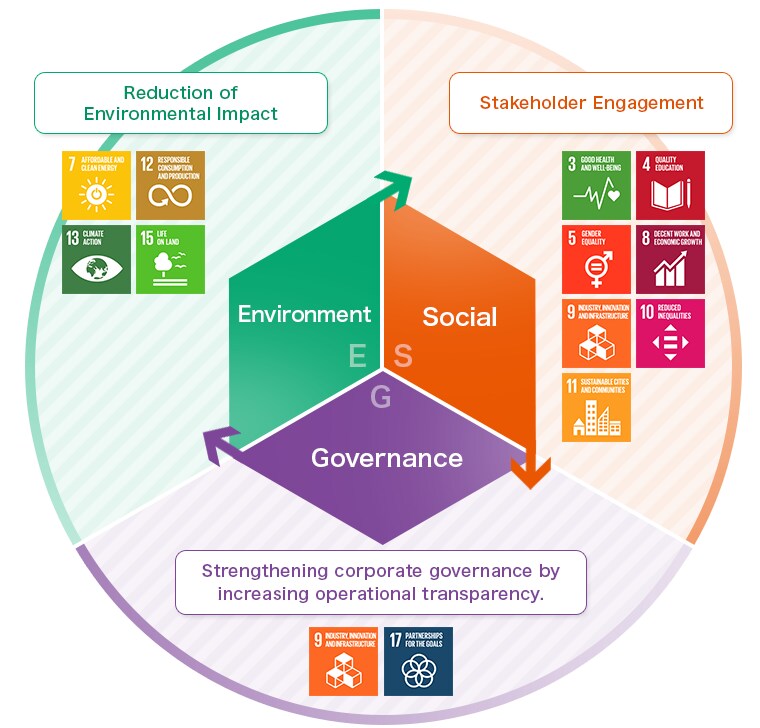 Environment
The PPIH Group Environmental Policy
Reduction of Environmental Impact
As environmental issues become increasingly severe on a global scale, our group aims, through our business activities, to contribute towards the creation of a low-carbon-emissions, recycling, nature-friendly society.
Social
The PPIH Group Social Responsibility Policy
Stakeholder Engagement
Through dialogue with our stakeholders, we aim to grasp their needs and quickly resolve issues, respecting their fundamental rights and continuing to develop as a business with a high level of ethics.
Governance
The PPIH Group Corporate Governance Policy
Strengthening corporate governance by increasing operational transparency.
We stand by the principle that highly ethical business activities are a prerequisite for corporate continuity, and we have built a rapid response system within the company, maintaining our corporate governance framework and the legitimacy of its operations while seeking expert advice from outside the corporate group.
We believe that the act of advancing environmental,social, and governance (ESG) initiatives during the course of our business is an undertaking that coincides with the intent of the United Nations Sustainable Development Goals (SDGs).
The SDGs are a set of 17 goals and 169 targets established as an action plan for the benefit of people, the global environment, and a prosperous future following the adoption of Transforming our world: the 2030 Agenda for Sustainable Development at the UN General Assembly held in September 2015.