Community-based social contribution and fundraising activities
Participation in the redesign project
The "Redesign Project" is a partnership project in Aichi and neighboring prefectures to connect people in the region by using unused fiber materials from local industries as materials, selecting works by design students in a contest, producing them at facilities that support the disabled, and selling them in stores.
This project, which was kickstarted from UNY in 2009, has spread out as a social contribution project to promote ethical consumption.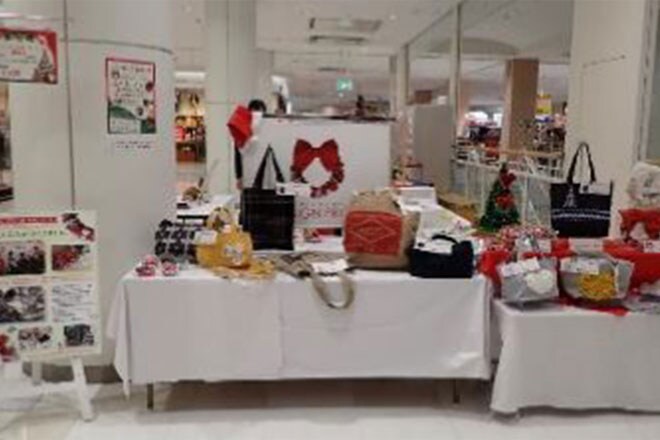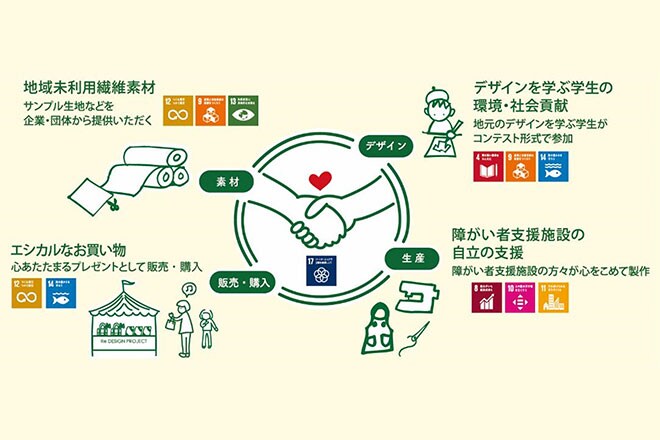 ■Planning period
June 2020 to February 2021
■Executive Committee Members
70 members from 51 companies
■Participating schools
343 students from 9 schools
■Participating support facilities for people with disabilities
9 facilities
■Total amount of sales
326,810 yen
Fundraising for the development and popularization of guide dogs
The PPIH Group conducts fundraising activities at each of its stores to help with the development of guide dogs and support the independence of people with visual impairments. Donations received will be delivered to the Japan Guide Dog Association and National Association of Guide Dog Facilities in Japan (NPO), which will use them to raise and train guide dog candidates to support the walking of visually impaired people. We also aim to create a society where guide dogs are accepted as a matter of course, by holding store events to deepen the understanding of guide dogs, as well as creating stores based on the new barrier-free law.
【Stores with donation boxes】
■Don Quijote, MEGA Don Quijote, MEGA Don Quijote UNY, Don Quijote UNY, Picasso, and Nagasakiya stores
Donation to Japan Guide Dog Associationn
■Apita, Piago, Piago La Foodscore, and U-Store stores
Donation to The National Federation of All Japan Guide Dog Training Institution (NPO)
【Amount of donations】
■Japan Guide Dog Association
Total amount of donations: \ 78,549,505 (donation period: November 2014 to June 2021)
■The National Federation of All Japan Guide Dog Training Institution (NPO)
Total amount of donations: \ 20,055,025 (donation period: July 2014 to June 2021)
---
Sale of Ice Cream to aid Disaster Areas
Since 2015, we have been collaborating with Häagen-Dazs Japan to implement a project to support the reconstruction of disaster-stricken areas. There has been no end to the flood damage caused by record-breaking heavy rainfall due to climate change, and the damage caused by repeated earthquakes.
For every Häagen-Dazs ice cream purchased during the period, UNY sets aside one yen to deliver toys and other items to children in disaster-stricken areas in cooperation with an authorized NPO. In 2020, we are supporting a portion of the cost of making reprinted graduation albums for children in Hitoyoshi City, Kumamoto Prefecture, who were affected by the torrential rains in 2020.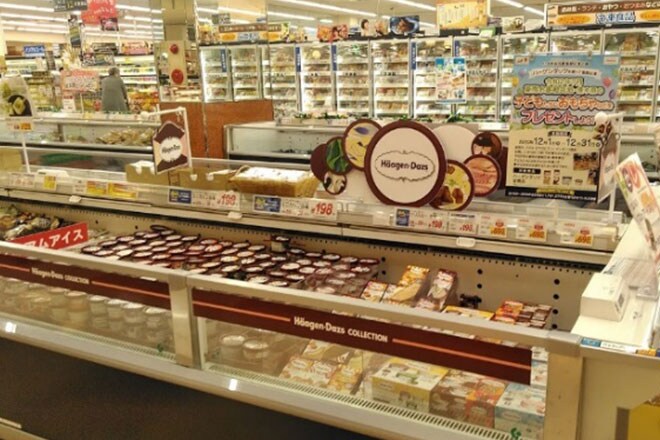 ■Number of times conducted
6 times since 2015
■Amount of donation
289,038 yen
■Total amount of donation since 2015
2,030,315 yen
■Donation to
Rescue Stockyard, a non-profit organization (Liaison Council for the Creation of a Place for Children in Hitoyoshi-Kuma, Kumamoto Prefecture)
■Period
December 1, 2020 to December 31, 2020
■Stores
Apita, Piago, U-Store
Supporting Children in Tohoku at Bell Marks Movement
The Bell Mark Movement is a charity activity in which funds (Bell Mark deposits) generated by PTA activities and other volunteer activities are used to improve the educational environment by providing school equipment and teaching materials. The Bell Mark Movement to support children in Tohoku, which had started in cooperation with Kirin Beverage to help the areas affected by the Great East Japan Earthquake, was in its 10th year in 2021.
We installed dedicated Bell Mark collection boxes at our stores' service counters and other locations to collect Bell Marks and appealed to our customers for their cooperation in sending stationery and other items to the children of Tohoku.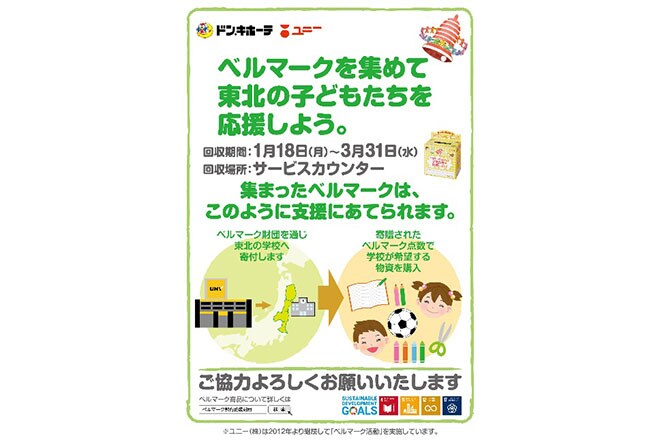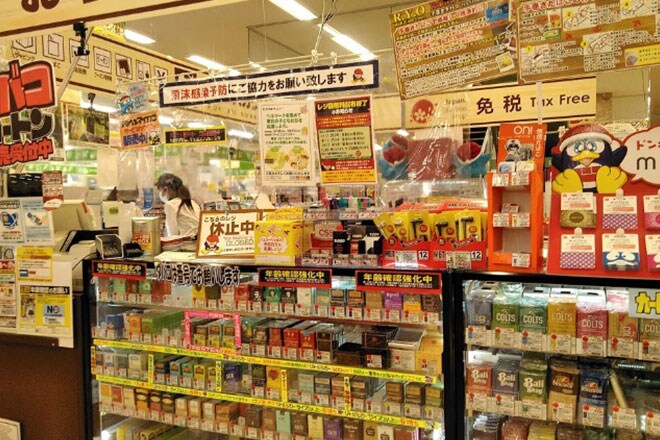 ■Number of times conducted
10 times since 2012
■Collection period
January 18, 2021 to March 31, 2021
■Number of items collected (Amount of donation)
Approximately 1.89 million items (approximately 1.89 million yen)
■Donation to
Bell Mark Educational Aid Foundation
■Stores with collection boxes
MEGA Don Quijote UNY, Don Quijote UNY, Apita, Piago, U-Store
UNY stores collect used plastic bottle caps from customers and employees. The collected caps are sold to a plastic recycling company to be recycled into automobile parts to reduce waste. In addition, all profits from the sale of the caps are donated to an organization working to save children's lives.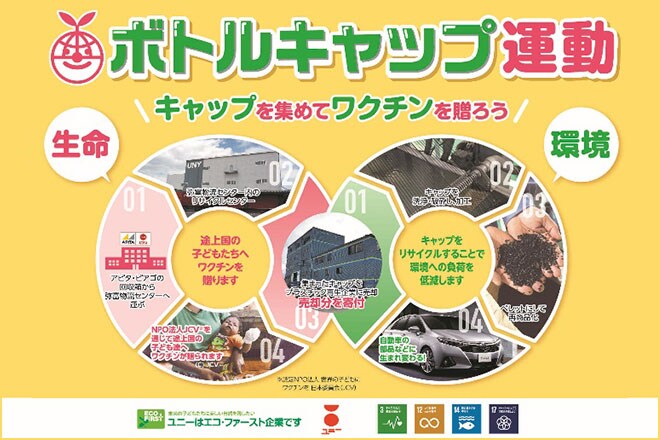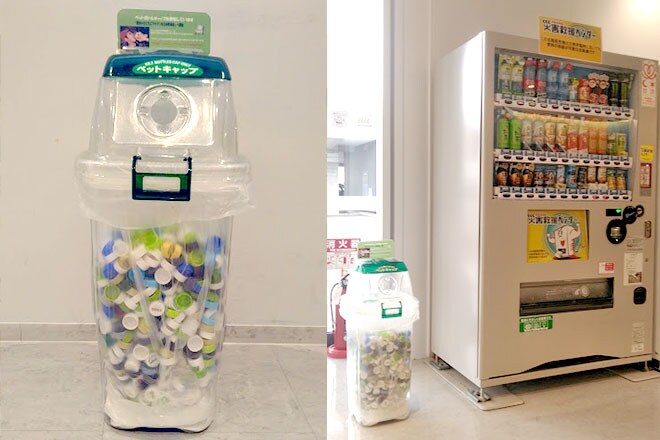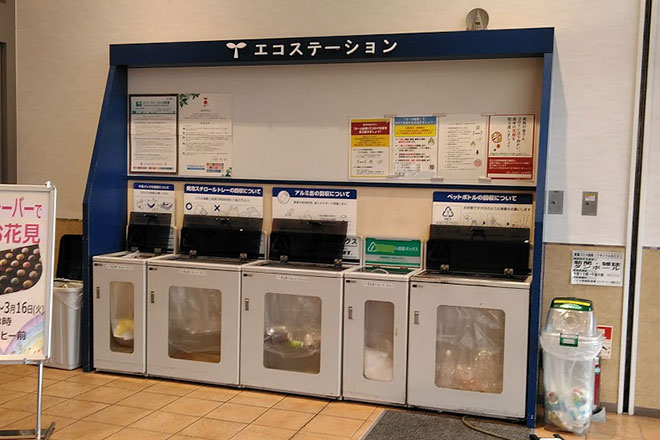 ■Donation to
Japan Committee for Vaccines for the World's Children, an authorized NPO
■Period of collection
March 2020 to February 2021
■Amount of donation
1,805,560 yen
■Total amount of donation since March 2015
12,890,265 yen
■Stores with collection boxes
Apita, Piago, and U-Store stores in the Chukyo area and the head office of UNY Inazawa