Diversity Management Committee
Purpose of establishing the committee
In our corporate philosophy, "The Source", we advocate for a "corporate culture that recognizes diversity". The establishment of the Diversity Management Committee (hereinafter referred to as "DM Committee") is aimed at strengthening this corporate culture, and will strongly promote the creation of an environment in which women can play an active role in various positions, including executive positions. We will also actively promote diversity in a wide range of areas, including support for LGBTQ, promotion of senior and non-Japanese employees, and promotion of employment of people with disabilities.
Message from the Director in charge of Diversity Promotion
Promotion Structure
■Promotion of Diversity
We will strive to create a workplace that respects and recognizes the diverse values, individuality, and privacy of all people involved in our corporate activities.
The promotion of the Diversity Management Committee aims to contribute to the development of society, both within and outside the Group, as a company with high ethical standards and good sense, respecting the basic human rights and diversity of all stakeholders.
The DM Committee, which is organized under the direct control of the CEO, is composed of several related departments working together in a cross-sectional manner. We aim to resolve issues by proactively engaging in dialogue with our stakeholders to identify their needs and respond to them as quickly as possible.
Action Plan
The DM Committee considers all stages of the promotion of women's activities to be connected. We will implement the plan as a "cyclical plan" in order to achieve accelerated and sustainable corporate growth, by taking simultaneous approaches to the issues of each stage.
We believe that the understanding and cooperation of all of the layers and staff involved is essential at every stage, from recruitment to promotion to management and employee growth, and we are planning various measures which will enable the entire group to tackle this issue.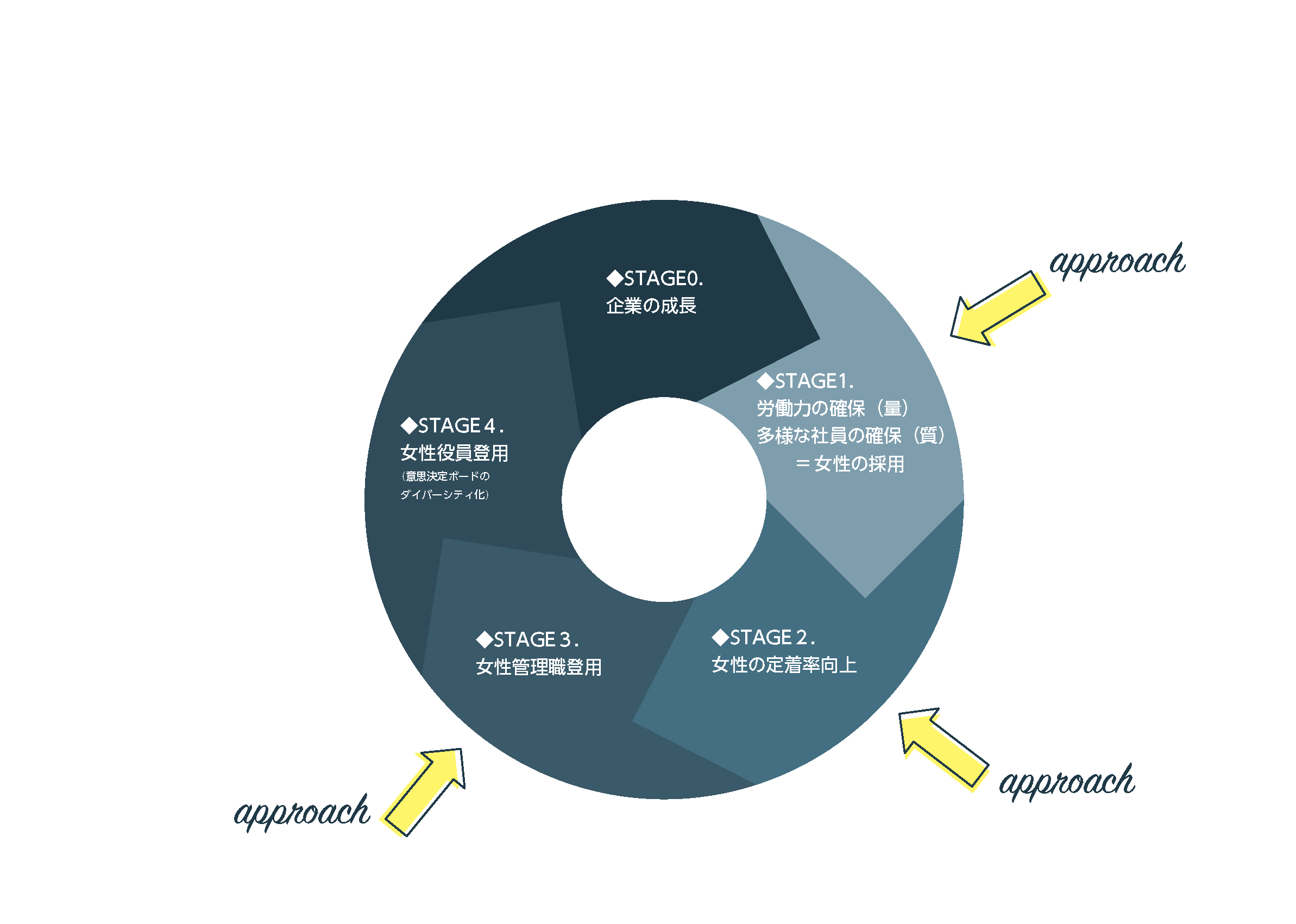 Progress to date in promoting diversity
2009年

Idobata Committee established.


・The establishment of a women's consultation service
・Distributed a summary of the system during life events
2015年

cocoro Project launched to improve the rate of maternity leave utilization.

2016年
・Set up a women's consultation counter in each store area
・Creation of a support kit summarizing maternity and paternity leave systems
・In-house daycare center "Don Kids" opens
2017年

Launched the LGBTQ Project.


・Started participating in Rainbow Pride
 Pride Index Silver Award
・Started LGBTQ training.

Establishment of Diversity Promotion Office (integration of LGBTQ project).


・Human Rights Awareness Activities
2018年
・Life Partner Program Launched
・Pride Index Gold Award
2019年
・Pride Index Gold Award
2020年

"The Source" Promotion Headquarters, Diversity Promotion Section


・Pride Index Gold Award

Diversity Management Committee established.


・The first female executive officer was born
・Set targets for promotion of women's activities
Activities of the Diversity Management Committee
Promotion of female activities
■Quantitative targets
①Increase the ratio of female managers
②Ensure that the average length of service is equal between men and women.
(Target corporations: PPIH, Don Quijote)
Difference between men and
women as of the end of June 2020
-1.7year
Difference between men and
women as of the end of June 2025
±0year
■Initiative
Seminars to promote the advancement of women
In order to promote the advancement of women, the PPIH Group held its first in-house seminar with the aim of improving the skills of female employees and promoting understanding amongst male employees.
【Seminar Theme】

1. "Communication at Work: Using Logical, Not Emotional, Language"
2. "Communication to encourage subordinates' growth" Male employees with female subordinates
3.My career What I want to do & What I can do & What is required
The program is open to all employees, from regular employees to mates, working at bases and stores nationwide. After the lecture on the theme, there is a question-and-answer period where participants can discuss their concerns and get answers and hints that will help them maintain and improve their motivation. As a place where participants can exchange opinions while sharing their concerns and experiences, many employees have expressed a desire to continue holding and participating in these sessions, and we hold them on a regular basis. Many management-level employees also participate in the workshop, learning how to treat women and how to communicate with them in a way that can be immediately put into practice in the workplace and utilized in their daily communication.
4. Taking another look at management seminars from the viewpoint of women
A seminar was held for Branch Managers who are in charge of multiple stores to consider, from a female perspective, how to approach raising women up so that they can feel comfortable and empowered. We came up with ideas to solve real problems while absorbing the issues that must be addressed in order to penetrate and actualize the goals that the PPIH Group is aiming for. In the future, we will conduct trials of initiatives for solutions derived from the seminar.
Promotion of LGBTQ
■Goals of the PPIH Group
Create a workplace where people can work with confidence and maximize their individual abilities by creating a workplace with a high degree of psychological safety.
■Introduction of initiatives and activities
・Participate in events and sell related goods
The Don Quijote Sapporo Tanuki-Koji Main Store participated in the Sapporo Rainbow Pride event, held on September 12th, 2020.。This is the third year in a row that I have participated in this event since my first one in Due to the effects of COVID-19, the usual sales of goods at the venue were postponed, but the Sapporo Tanuki Koji Main Store offered rainbow goods to add color to the parade.
■Outside evaluation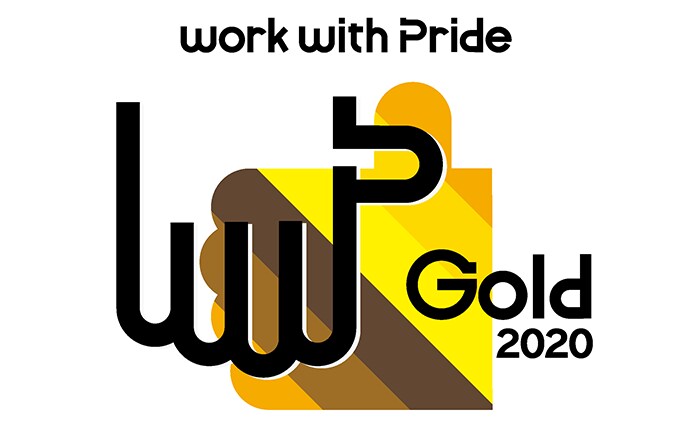 For the third year in a row, we received the highest rating of "Gold" in the PRIDE Index 2020, an evaluation index for initiatives concerning sexual minorities in the workplace formulated by the voluntary organization "work with Pride".